A Definite Uno: UP Academic Planner
Now on its third year of conception, the UP Academic Planner surpasses its first installment, giving you more than just a college buddy. With countless vouchers, freebies, free passes, and a free ticket to the anticipated college party of the sem, you've ran out of reasons not to get one for yourself, especially if you're a UP student (all UP systems included).
It has the most basic of needs: a daily planner, class schedules for both semesters, tables for the number of Cuts, Units, and special holidays and University celebrations including unique dates from all campuses, plus the lyrics to "UP Naming Mahal" ("UP, Our Beloved") just to list a few.
It also has quirky guides to classes, profs, quotable quotes, favorite hang-out places and study places, print shop locations, how to survive Hell Week (or Hell Month/Sem/Year), a map for UP Diliman, Guides to Enrollment, Prerog, and even a game of "Sablay o Singko" a la Snakes and Ladders. To check their sample pages, click here.
This Planner is the product of months of sleepless nights, zombie-like days, irregular eating habits, research research research, and love— for both YOU and UP. It is powered by honor and excellence, as well as the desire to serve you the best way we know how. Also caffeine.
Last Thursday, the team debuted their babies at Moonleaf Maginhawa. I was free that day and supposed I could help my friends from the creative and hardworking team behind the UP Academic Planner.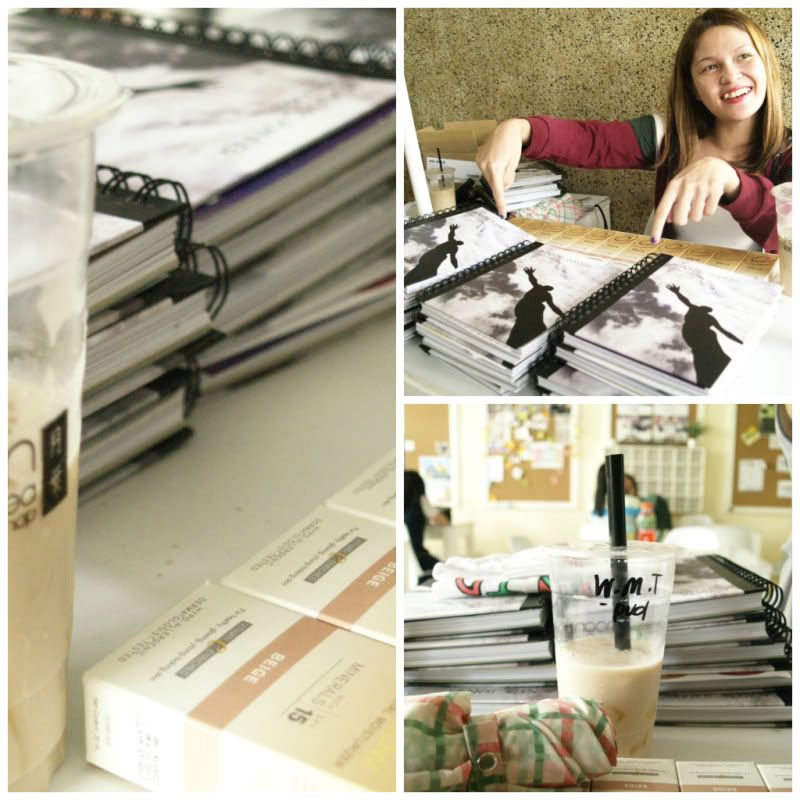 They were giving away free Myra facial moisturizers to those who bought planners that day.
My PUGAD friends and party buddies, Chantal and Barbie (project head)!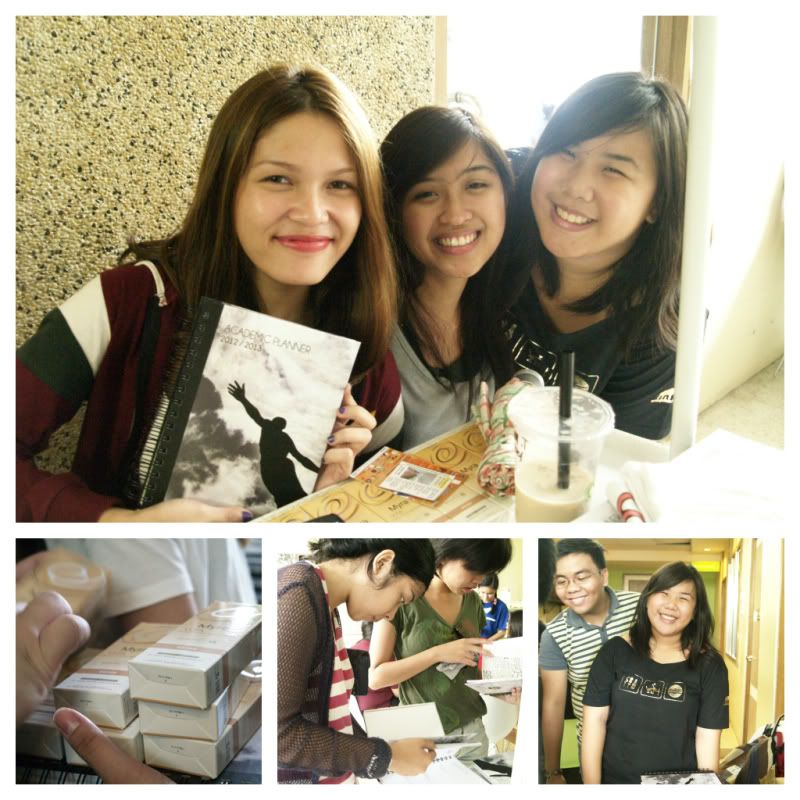 Quick collage of the PUGAD girls, how many moisturizers a person scored, people checking out the planners, and our very cute resident marshmallow smiling for the camera.
——
Get yours for only 350Php!
They're open to pre-order and walk-in buyers. They'll be setting up a booth at Moonleaf Tea Shop Maginhawa every Monday for a couple of weeks.
For orders and inquiries, please contact them thru:
Email: upplannerproject@gmail.com
Facebook: https://www.facebook.com/UPAcadPlanner
——
Collages done in PicMonkey. Read about it here.
Stay in school - rather - have fun in school and drink your milk(tea)!
Love,
Kit of The Girls' Room
Tweet