Illustrator Profile: Celina de Guzman
Our hearty Lady baker when off-duty, loves opening up the pages of her moleskin, creating dreamy illustrations that are both endearing and disturbing at the same time. Celina answers TGR's eager questions.
——
Tell us something about yourself as an illustrator. How did you develop your style? Who are/what styles are your idols?
If there's one thing particular about me, it's that I refuse to illustrate without my 0.03 pencil, I'm both a minimalist and maximalist, my art is both dark, and cute, and that majority of my pieces are emotion-driven— basically same with my cookie-baking. I'm at my best when I'm highly emotional, and so-so when I'm o-kay. Lastly, I'm horrible at expressing myself through words (thus my decision to stick to hands-on arts).
If you ask me, style-development's a process, and as said by many, it isn't established overnight. I began drawing elements from Disney (I guess this applies to the majority of 90's artkids), and nature. I fondly remember drawing dogs (labradors, particularly. Cute labradors with magenta eyes) on MS Paint, and doodling over flyleaves of my story books. I learned basic figure drawing from RPG games, and anime, and later on explored different techniques from purchasing how-to books. If I remembered right, I think I was able to establish a style-STYLE at 2009 (first-second year of college), while tinkering with AI CS5 (strange, yes), browsing through art & illy sites (no, not Deviantart), attending workshops, and by meeting new people. Trade of concepts, birth of ideas, etc. I noticed, by illustrating on a daily basis, that there were some elements which I'd subconsciously create. Flowers, goldfish, free-flowing lines. It's pretty difficult to explain haha.
Don't judge me, I'm not so versed with the art world. I try my best to stay away from it, my style idols would have to be Yoshitomo Nara, Yoshitaka Amano, Hikari Shimoda (mostly Japanese haha, no, not an anime fan. Definitely not an anime fan), Tim Biskup, Meg Hunt, Stephane Tartelin, Miss Van, Violeta Hernandez.. oh the list goes on! Apart from these figures, other bits of inspiration would be from Religious art.
Where do you draw inspiration for your subjects? Has your inspiration/s ever failed you in the past? Why do you keep on doing what you do?
Inspiration comes from whatever interests me— past events, scientific illustrations, nature (as mentioned earlier), ethnic patterns, love, and goldfish. These elements help in embellishing my illustrations, but aren't responsible for creating the overall concept of my pieces. Sure, you can make something pretty with a few flowers, and filigree, but these would end up as something poorly executed (I'm speaking based on experience, of course). Before illustrating, I (usually) have the idea/concept/finished piece constructed in my head (especially if this involves clients; best to be efficient and all!) just so the piece would have a base and all. The best way to describe my illustrative process would be "connect-the-dots". I embellish the artwork, one element at a time, til I feel its complete. One of the horrible reasons, though, about this process is the amount of time I spend drawing. I work based on intuition, and most of the time, I feel like following a fixed plan constricts the final image from being at its finest state.
There are a few reasons why I do what I do. First of all, I create art to express just like all artists. It's a way to release certain emotions, negative, positive— I can actually release different moods through frozen images. Secondly, through art, I am given freedom to create worlds, souls, ideals; anything and everything taboo in our dimension. And lastly, art is second nature to me, I guess. As cliche as it may be, it's something I can't live without.
What do you consider the most unique element of your works?
I'm not quite sure if it's unique, but I enjoy drawing in some tears/saliva— anything drippy, actually. Well, apart from that, the second most unique element present in my works would be the lack of pupils. Hmmm those are basically it. As for the colors, and etc., hrmm I don't think I have a distinct palette, I fill my works with colors based on my mood— it's a must for pink and sea green to be present in my "happy" works, and deep magentas, corals, and greys for heavy works. I usually enjoy keeping them as simple as possible though— not out of laziness, but because a surplus of elements would overshadow the audiences' focus on the image. 
——
CELINA'S WORKS
The amount of detail Celina puts into her illustrations is dumbfounding. She never shortchanges, and never sells out. I actually quickly repose into hypnosis watching her hand glide across the paper when I catch her drawing, it's not even funny, because I feel like such a stalker (hi Cel).
She has illustrated for countless gig and other events' posters for the likes of Iscream Productions, Kerplunk, and Today x Future.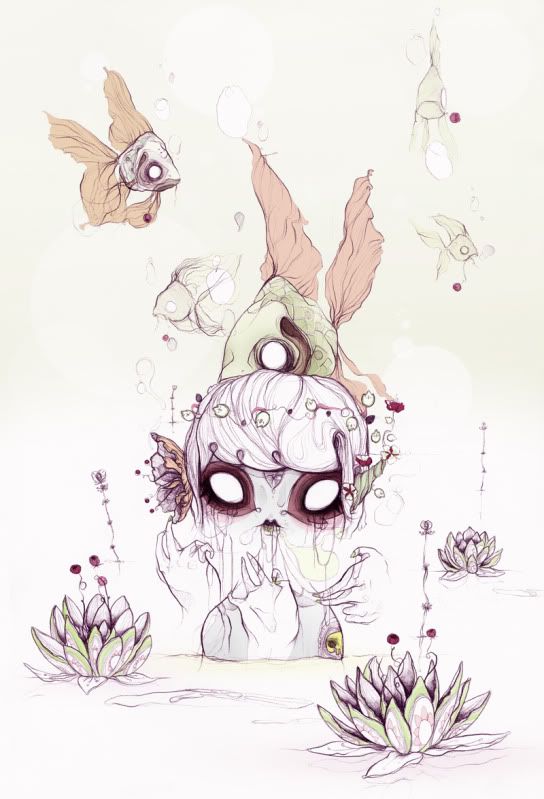 ——
Follow Celina's works over at her Tumblr. Her contact details are available on her site, if you're interested to hire her for anything.
Visit her Cookie Business, Sweetleaf here, and read our article about it here.
Love,
Kit of The Girls' Room
Tweet